Union vows to fight Noranside Prison closure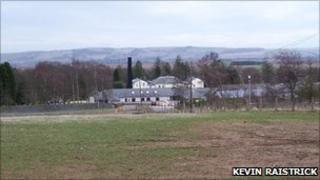 Union leaders have promised to fight the proposed closure of an open prison in Angus.
The Prison Officers Association said it had "put paid to any idea" that Noranside would be allowed to be shut down quietly.
Staff at the open prison were told in December that it was likely the jail would be closed.
The Scottish Prison Service (SPS) said a final decision on Noranside's future would be taken in February.
The prison is operating at 65% capacity and inmates could be accommodated at nearby Castle Huntly, the SPS have said.
Its future has been in doubt since the Scottish government announced cuts in justice spending in its last budget.
'Not reasonable'
Following a special conference in Perth to discuss the proposals, the Scottish Prison Officers Association said it would campaign locally and nationally to keep Noranside open.
Chairman Dave Melrose said: "We have just informed the chief executive of the outcome of our special conference, that we reject wholeheartedly the proposal to close HMP Noranside."
Mr Melrose said the conference had unanimously condemned the decision and claimed that "no reasonable case" had been made to justify closure.
He called on the SPS to postpone closure arrangements to allow "further and wider consideration".
More time
Noranside has been running under capacity since the Scottish government ordered a tightening of the rules on open prisons in the wake of the Robert Foye case in 2008.
Foye raped a 16-year-old schoolgirl in Cumbernauld after absconding from Castle Huntly, while serving a sentence for attempting to murder a police officer.
A spokesman for the Scottish Prison Service said a final decision had been postponed to allow union leaders the opportunity to make their case.
He said: "We're giving them further time to make representations and [the prison's future] will be considered at the board meeting in February."