Dawson International hit by rising cotton prices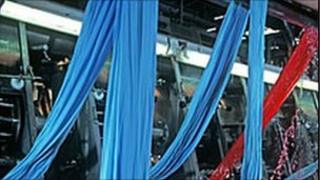 Kinross-based textile firm Dawson International has reported widening losses in its home furnishings division following a rise in cotton prices.
However, the firm said its UK and US knitwear divisions performed better than expected in the past six months.
As a result, overall trading performance for the year to 1 January was "in line with expectations".
In a trading update, Dawson said its performance in 2011 was likely to be lower than previously expected.
The cashmere and home furnishings group also reported a payment of $1.5m (£940,000) from Inner Mongolia King Deer Ltd on 5 January 2011, which would bring total exceptional income in 2010 to $2.5m (£1.6m).
However, this would be offset "to some extent" by restructuring costs and an increase in environmental clean-up cost provisions in both the UK and the USA.
Price increases
In a statement, Dawson said: "The increase in cotton prices is now well communicated in the market and it is anticipated that price increases will be accepted by our customers in 2011, allowing some recovery in margins in our home furnishings business.
"Cashmere price increases will impact on both our UK and US Knitwear businesses."
It added: "Of most concern is the impact on our US knitwear business where private label customers have indicated that they will reduce their cashmere buys, leading to a significant reduction in turnover and profitability in that business."
Last September, the company's chief executive, Andy Bartness, stood down amid warnings of falling profits and a large pension deficit.