Dundee cash machine 'spits out' money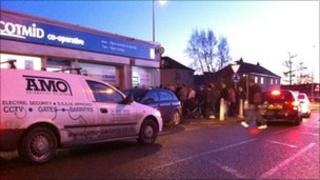 Dozens of people flocked to a cash machine in Dundee after it started "spitting out" money, it has emerged.
Police were called to the Scotmid branch in Fintry Road after staff noticed a crowd gathering outside the ATM at the front of the shop.
A witness told the BBC Scotland news website the machine was paying out double the amounts requested.
The ATM, which is operated by Bank Machine Ltd, was put out of commission shortly afterwards.
'Smiles on faces'
One witness, who asked not to be named, said: "The machine was spitting out money.
"There were 50 or 60 people queuing outside the shop and people were running around with smiles on their faces, saying it was paying out double the amount people were asking for."
Scotmid said the ATM was operated independently and was not connected to the store.
A spokesman said: "Some of our staff at our store noticed large queues forming outside and they became a bit concerned. They could not get close enough to the machine to check out what was going on so they did exactly the right thing and called the police."
Tayside Police confirmed they attended the scene, adding there had been no incidents.
Ron Delnevo, managing director of Bank Machine, said: "On rare occasions ATM cash cassettes are packed incorrectly, causing this kind of error in cash dispensing.
"It is not surprising that this causes some excitement locally. Because it happens so rarely and is dealt with very quickly when it arises, there is no point in being grim-faced about it.
"If the people using the ATM see it as a bit of fun, so be it."