Source of River Tay 'pinpointed'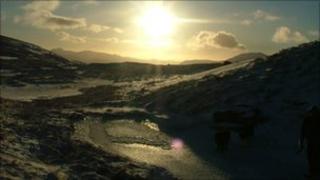 River experts claim they have finally found the source of the longest river in Scotland.
The slopes of Ben Lui, near Tyndrum, have been accepted as the head of the River Tay since 1780, but no-one has determined a precise location.
Surveyors at the Tay Western Catchments Partnership said they believed the source was a small lochan on the Allt Coire Laoigh, south of the summit.
The burn flows into the Cononish and Dochart before joining Loch Tay.
Victor Clements, from Scottish Native Woods, which set up the partnership, said it had followed the "longest and most dominant" tributary on the slopes of the 1,130m (3,707ft) Ben Lui.
The group undertook a 1,000-mile survey of the rivers and watercourses in Glen Lyon, Glen Lochay and Glen Dochart.
As part of the project, Mr Clements said he and his colleagues wanted to determine the exact source of the River Tay.
"We wanted to finish the survey at the source," he said. "We spent about three months asking people and no-one was able to tell us where it was.
"There are three water courses that come down from Ben Lui. If you follow the most dominant courses the Allt Coire Laoigh is where you end up."
The Ben Lui surveyors said they had buried a time capsule at the source, including some money and documents relating to this project.
The team has invited anyone who finds the capsules to "help yourself to the price of a fish supper in Tyndrum".
The partnership acknowledged in its report that there were numerous ways of determining the source of a river, including the furthest point from the sea or the head of the most dominant watercourse.
Some experts also prefer the highest point - which in this case would make the source the Allt Coire Ghaorhaich, which arises from close to the summit of Ben Lui.
But the report concludes: "For the record, we think that, as it is the most dominant tributary and also the longest, the answer is the Allt Coire Laoigh and, as no-one else seems too concerned, we are going to claim credit for redefining the true source of the River Tay."