Stirling University sets up Bangladesh fish museum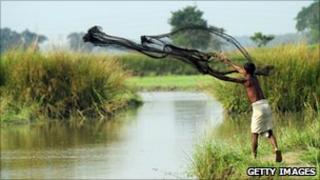 Scientists from Stirling University are teaching some of Bangladesh's poorest people how to conserve the country's diminishing fish stocks.
They have set up an education centre and museum to emphasise the importance of sustainable fishing.
Fish is a vital source of food in the impoverished country, where almost a third of people suffer from acute hunger.
But growing demand is putting pressure on the country's aquatic systems.
The Bangladesh Fish Museum and Biodiversity Centre, set up by Stirling's Institute of Aquaculture, aims to teach a largely illiterate population the importance of conserving the country's native aquatic species.
Based in Mymensingh, some 75 miles (120km) from Dhaka, the centre offers people of all ages free access to information as well as museum exhibits, many of which were shipped over by the institute last year.
The facility is based in a building gifted by Bangladesh Agricultural University (BAU), which is supporting the project.
Dr Andrew Shinn, a senior lecturer at the Institute of Aquaculture, said: "We already know how effectively education and conservation initiatives can be used to protect endangered species, as well as sustainably managing others.
"So we felt there was an urgent need to promote greater understanding and appreciation of Bangladesh's natural history among ordinary people.
"And as fish is so central to their daily lives, it seemed obvious to build the idea around the aquatic environment."
As the overseas director of what is now Bangladesh's first natural history museum, Dr Shinn is trying to secure more museum exhibits from around the world.
He is currently negotiating with an overseas government over a large collection of African animals for the museum.
In the process of setting up the centre, the Scottish institute has also become involved in running a night school for some of the area's poorest children.
Dr Shinn, along with former Stirling students who are now staff members at BAU, has helped to arrange basic education for about 60 children five evenings a week.
The night school receives no government assistance and survives on donations.
Dr Shinn enlisted the help of his family, friends and colleagues, who made donations and raised money through a series of small charity events.
He said: "Last March, we shipped out a modest consignment of about 100kg of basic classroom equipment - stuff like lamps, because the children often study in the dark - together with a small donation of £200 to help the school.
"By contributing their spare change, staff members here at the institute have already raised another £300 and we're collecting equipment for the next consignment, which we hope to send out in spring," he added.