International Rescue Corps 'ready for disaster'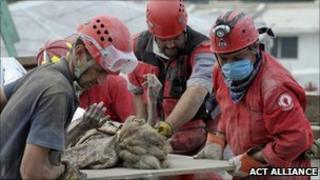 A Scottish-based rescue charity has said it has now raised enough cash to respond to a disaster after facing possible bankruptcy last year.
The International Rescue Corps (IRC) was unable to go to Haiti after the earthquake in 2010 because the mission would have wiped out all its funds.
But the IRC's Derek Jolly said a "concerted" year of fundraising had replenished the bank balance.
The Grangemouth charity was formed in 1981 after the 1980 Italian earthquake.
Since then the organisation has helped with disaster relief all over the globe, most recently in Indonesia in October 2009 after the earthquake in Sumatra.
'Healthy' bank balance
IRC volunteers come from a range of backgrounds and generally take unpaid leave when they are deployed to a disaster zone.
In January 2010 - when the Haiti earthquake struck - the IRC had about £30,000 in the bank. A rescue mission would have cost at least £35,000.
The organisation faced the "horrible" prospect of winding up the charity if they had sent a team to the disaster zone, and eventually decided not to go - concentrating instead on raising more funds.
Mr Jolly said the IRC bank balance was "a lot healthier" than a year ago.
"We've more than doubled that figure of £30,000 and building on that we've got about £80,000 now," he said.
"The first few months after the Haitian earthquake happened kick-started a concerted effort to raise funds.
"A flood of cheques came in after people heard we couldn't go to Haiti."
UK disasters
Team members have also been giving talks and presentations throughout the year, which brings in a "steady trickle" of cash, Mr Jolly said.
And following a change in National Lottery grant rules, the team is due to receive £10,000 to help pay for a new ambulance.
The vehicle will be used to transport team members or equipment quickly to the airport when responding to a disaster.
It will also be used by the charity when helping the emergency services at UK disasters, like the recent flooding at Cockermouth in Cumbria.
Mr Jolly, 40, said the IRC now had enough money to help at "two small to medium scale disasters" or one large disaster.
"For bigger scale disasters that are far away you're probably looking at using most of our money," he said.
"It would diminish the funds, but the publicity generated would bring in more money. That's always the way we've worked."
He said the organisation's leaders would continue to motivate the corp's 160 members to raise more funds.