Tayside Police trial 'tweet from the beat'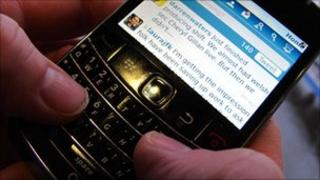 Police officers in Tayside are to use social networking site Twitter to communicate with the public.
The three-month trial will see community officers providing people with updates on meetings, traffic updates and crime prevention advice.
The pilot will run in Auchterarder, Crieff and Kinross.
Tayside Police said they would also be the first UK force to trial MyPolice, which will allow people to send police anonymous feedback via a website.
Deputy Chief Constable Gordon Scobbie said the force had already experimented with social media to good effect on a number of occasions.
'Two-way conversation'
"For example, during a recent spate of suicides in the Dundee area we used Facebook as an effective way of engaging with friends of the young people involved," he said.
"Many forces are now realising that traditional methods of getting messages out, which we have relied on in the past, are having less impact and are reaching fewer people.
"Simply 'broadcasting' messages by whichever channel, is no longer enough.
"What really makes a difference is giving people the opportunity to engage in a two-way conversation with the police about things that matter to them."
Eight officers will be tweeting messages to their local communities during the trial.
Tayside Police is the first force in the country to use MyPolice, a website that allows people to comment on local policing and discuss issues.
A spokeswoman for MyPolice said: "The Scottish government recognises that it is vital that communities are empowered to participate in the planning of local strategies, and feel a sense of ownership of what happens within those communities."
The Glasgow-based company, founded by Sarah Drummond and Lauren Currie last year, hopes the services will be taken up by other forces in the UK after the three-month pilot in Tayside.
Justice Secretary Kenny MacAskill said the government would await the results of the trial with interest.