Dundee University staff vote to strike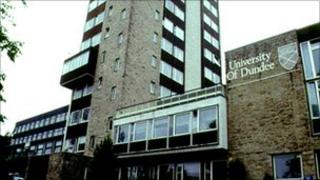 Staff at Dundee University have voted to strike over the threat of compulsory redundancies, amid plans to cut almost 200 jobs.
A ballot by members of the University and College Union (UCU) voted 65% for strike action, with 83% approving of action short of a strike.
But the union said it hoped to continue negotiations with management.
The university said it was "firmly committed" to working towards avoiding compulsory redundancies.
A voluntary severance scheme has been opened but so far the university has not ruled out compulsory job losses.
The union said there was a 40% turnout for the ballot.
'Extremely disappointed'
UCU Scottish official Mary Senior said: "UCU members at the University of Dundee have sent a clear message that they will not countenance compulsory redundancies.
"We look forward to further constructive negotiations with the university's management as nobody wants to see strike action.
"However, it has been made quite clear that the staff are prepared to go down that route if left with no alternative."
A university spokesman said: "We are extremely disappointed at DUCU's decision to hold this ballot. We do not believe this is in the best interests of staff or students across the university.
"The number of votes cast equates to less than 10% of all academic and related staff at the university, of which 135 have voted for strike action and 173 for action short of a strike."
The university's governing body announced in October that 195 jobs could be cut in a bid to save £8m a year.
Mergers
Worst hit by the job cuts are the School of Medicine, which will lose 20 posts, and the university-wide support services, where staff will be cut by 85.
As well as the loss of up to 193 posts, an additional £1.5m of savings will be made by reducing the number of buildings used by the university and cutting subsidies to activities such as the botanic gardens and campus catering.
The schools of Architecture, Geography and Town and Regional Planning will be merged to create a new School of the Environment.
And a School of Business will be created out of the merger of the School of Accounting and Finance with the Economics department.
Professor Pete Downes, principal and vice-chancellor of the University of Dundee, has said the university needed to be prepared for unprecedented cuts in public expenditure.
He said the job losses were primarily about focusing on the "great strengths" the university had.