New fence at Loch Katrine provokes winter deer fears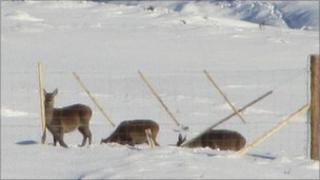 Deer living near one of Scotland's most famous lochs no longer have a "fighting chance of survival" because of a new fence, local residents have said.
The fence near Loch Katrine in the Trossachs prevents herds reaching their traditional wintering grounds.
Residents said the deer had been desperate to get to lower ground during the recent harsh weather.
But Forestry Commission Scotland, who built the fence, said it was necessary to protect newly planted woodland.
All deer caught below the six-mile (9.7km) fence are to be culled.
The barrier has been erected to protect newly planted trees from being eaten by the animals, part of the creation of a continuous "Great Trossachs Forest" woodland area.
The plan was approved after a consultation exercise involving a formal environmental impact assessment.
'Death sentence'
Locals have spotted deer huddled up to the fence line, unable to follow their natural seasonal movement to lower ground. Last month has been confirmed as the coldest December since records began.
Jan Young, spokesperson for the local Loch Katrine residents, said: "This week visitors reported seeing three separate herds - one of 50, one of 20 and one of 12 - many of them lying by the fence.
"And by the large amount of hoof prints in the snow it was obvious they had been pacing up and down trying to access the lower pasture.
"Any sightings of local deer on their traditional lower routes enjoying food and shelter are now accompanied by the knowledge that these deer are at imminent risk of also being culled," she said.
"Forestry Commission Scotland might just as well issue a death sentence on these deer as they are likely to die a slow and lingering death trying to reach food and protection from the bad weather."
'Extremely complex'
The commission decided in September 2009 not to ring-fence each planting block as planned, but to cut off deer from lower ground at north Loch Katrine by building one single longer fence.
This was to help black grouse in the area by reducing the length of fencing that could create a hazard to the birds, the Forestry Commission said.
A spokesman for the commission said planning and managing a sustainable forest expansion was "an extremely complex process".
"We need to take into account a whole range of factors - deer being only one of them - so any plans we develop have to have some degree of flexibility in order to be able to adapt to new circumstances and considerations as they arise," he said.
"If new planted woodland is to have a chance of establishing itself it needs to be protected from deer, this means both culling deer and fencing off the trees."
The spokesman added that deer would still be able to access woodland along the loch's shoreline by available downfalls.