Police officer praised for off duty chase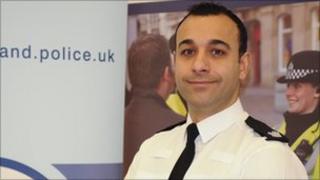 A senior police officer has been commended for catching a suspect after a violent struggle while off duty.
Supt Thom McLoughlin - then a chief inspector - spotted the man while walking home from work and chased after him when he ran off.
The housebreaking suspect, who was arrested and charged, also racially abused Supt McLoughlin.
The officer received a commendation certificate for displaying tenacity, bravery and dedication to duty.
Chief Constable Kevin Smith said: "This incident took place when Thom was off duty and did not have the benefit and comfort of his officer safety equipment.
"He showed determination and bravery in pursuing this suspect, putting himself at risk to effect the arrest of the suspect for a housebreaking."
Bravery awards
The chief constable said the case showed that police officers were never really "off duty".
Supt McLoughlin received the commendation at the annual Central Scotland Police awards.
Ninety-three officers of various ranks are being presented with long service and good conduct medals.
And two members of the public - Christopher Byrne, of Bonnybridge, and Robert Sutherland, of Grangemouth - received Royal Humane Society awards for their bravery in separate incidents.