Young runaways sent text advice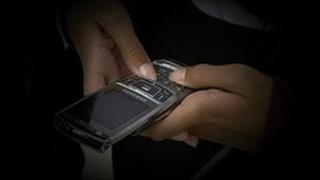 Youngsters in central Scotland who run away are to be sent a text when they go missing offering confidential advice.
A message sent to the youngster's mobile will suggest organisations that can offer help with the issues that may have caused them to leave home.
Central Scotland Police is running the scheme with charity Missing People and said it would cost the force nothing.
It was introduced in Clackmannanshire in 2010, but will now be used in Stirling and Falkirk as well.
Since the Young Runaways initiative was launched, Central Scotland Police have dealt with 436 youngsters going missing on more than 1,000 occasions.
A force spokesman said it was common for some young people to go missing repeatedly.
Det Sgt Donna Bryans, who has been involved in the project, said: "Young people can run away and be reported missing in a wide variety of circumstances, from three and four-year-olds who simply wander off, to teenagers who might be experiencing a range of difficulties which they struggle to cope with."
The officer said the advice offered by text was "confidential and neutral".
"The message is delivered by Missing People rather than the police, recognising that in some cases the person may be hesitant about speaking to an officer," she added.
A Young Runaways co-ordinator will check missing person reports every day and recommend what course of action to take.
The chief executive of Missing People, Martin Houghton-Brown, said: "People go missing for all kinds of reasons and we are here to offer a lifeline when someone disappears."
"Text simplifies the initial interaction for someone in a highly emotional and stressful situation, and yet still provides the immediacy required to communicate directly when those most in need reach out."