Masked gang took Pitcaingreen couple hostage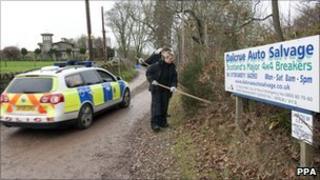 A masked gang tied up a couple during a bungled robbery at a salvage yard, a court has heard.
The men mistakenly believed the pair, who lived at Dalcrue Auto Salvage yard near Perth, owned the business and kept large sums of money on-site.
Brian Blair, 50, was remanded in custody after admitting being one of the gang.
His brother Thomas Blair, 47, admitted reselling items stolen during the raid and was freed on bail.
The men, who are both from Glasgow, will be sentenced at a later date. Charges against a third man, Isaac McPhee, were dropped.
The court heard that victim Gordon Barnes, 57, had a plastic bag forced over his head before being dragged by his bound wrists and ankles and dumped in the River Almond.
His partner Annabelle Hutchison, 59, was also bound up with electrical cables and was forced to watch as one of the balaclava-clad gang held a knife at her cat's throat.
She was made to watch as her partner was bundled out of the cabin where they live and shoved down the banking into the freezing water of the river.
After holding the couple hostage for an hour, on 17 November 2009, at the cabin in Pitcairngreen, they eventually realised there was no money.
Fiscal depute Charmaine Cole told the court Mr McPhee had informed Brian and Thomas Blair that there would be a large amount of cash kept at the salvage yard.
But the prosecutor said he was wrong and the couple had nothing to do with the business.
Blunt object
On the night in question, Mr Barnes was watching TV with headphones on while his partner was reading in bed when they were confronted by three men wearing black masks.
The fiscal depute said: "She (Ms Hutchison) looked up and saw a masked male standing at the foot of her bed. Her wrists and ankles were bound. The men demanded the couple show them where the money was," she said.
"A plastic bag was put over Mr Barnes' head so he was unable to see. She (Ms Hutchison) was dragged along the floor of the kitchen. Brian Blair momentarily pulled up his balaclava and she was able to catch glimpse of his face.
"Mr Barnes was struck on the head with a blunt object. The men seized hold of him and dragged him out to the riverbank. The bag fell off and he was left sitting in the river."
The men were heard saying they had made a mistake, Miss Cole told the court.
The couple eventually managed to free themselves and were able to phone the police and family for help after an ordeal lasting over an hour.