Clackmannan man jailed over 1970s sex abuse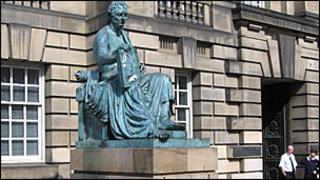 A 73-year-old man has been jailed for 10 years for sexually abusing children more than three decades ago.
David Chant, from Clackmannan, was locked up for 10 years after being convicted of abusing two boys and a girl between 1975 and 1990.
Chant had denied the charges but was found guilty after trial by a jury sitting at the High Court in Edinburgh.
Temporary Judge Michael O'Grady told Chant he had behaved like a "tyrant" towards his victims.
Chant sexually assaulted the first boy when he was aged five. The abuse continued until he was 12.
He also hit him with various weapons including a walking stick and a belt.
The trial heard that Chant sexually assaulted a second boy from when he was six until he was 12, as well as attacking him with weapons.
The pensioner also abused a girl from when she was aged five until she was 14.
All three, who cannot be identified, were abused at various addresses in Clackmannan.
The judge said: "It is stating the obvious to say you have been found guilty of the most appalling catalogue of offences.
"You have caused them untold distress which will never leave them and you have blighted their lives. You have shown no remorse or concern."
Defence advocate Alastair Brown told the court Chant had an unsatisfactory upbringing and was of "limited" intellect and not equipped to understand his crimes.
He appealed to the judge to impose a lesser sentence of around three years prison due to his age and ill health, but Judge O'Grady said the serious nature had to be reflected.
Chant was also placed him on the sex offenders register for life.