Hospital ranger encourages patients to use grounds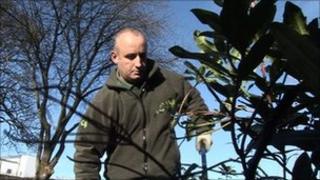 A Scottish hospital has employed its own ranger to encourage staff and patients to make more use of the hospital grounds, in what's thought the first project of its kind in the UK.
The new ranger, Gordon Harper, will maintain 70 acres of land which includes a loch, a walled garden and mixed woodland.
Mr Harper said: "There's this wonderful woodland which a lot of people haven't even discovered yet and some people in the hospital don't even know it exists, including staff."
The hospital ranger is jointly funded by NHS Forth Valley and the Forestry Commission.
The commission's health advisor Kevin Lafferty, said this was the first project of its kind: "In other places we're almost trying to retro-fit the green space and woodland, whereas here we've actually got it already."
The new Forth Valley Royal Hospital was built in the extensive grounds of the 19th century mansion, Larbert House.
The grounds contain oak, beech, lime, chestnut, sycamore and Scots pine trees, and plenty of wildlife including rare brown long eared bats.
Director of strategic projects and property at NHS Forth Valley, Tom Steele, said: "The project came about because of planning restrictions.
"We were required to develop an urban woodland as part of the planning consent for the new hospital.
"Usually the 70 acres would be sold on but there are so many health promotion policies that are being ticked by this and the therapeutic benefits are well researched now."
As I took a stroll around the grounds I found several local people making use of the cleared pathways, including one woman on a motability scooter, who said: "This is super for walks now. Absolutely amazing."
Ranger Gordon Harper hopes to get school children using the land, as well as staff and patients.
He added: "Gentle exercise can be just the tonic.
"Woodlands are the natural health service."