Dundee United footballer on 104mph speeding charge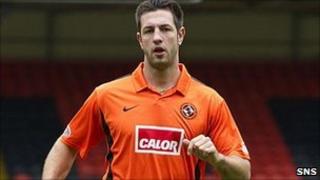 A Dundee United player has been accused of driving at 104mph in a 40mph zone.
Defender Mihael Kovacevic is alleged to have driven his Audi A8 4-2 Quattro dangerously and at "grossly excessive speeds" on Dundee's East Dock Street.
Kovacevic, 22, of Thorter Row, Dundee, was not at the city's sheriff court when the case called.
Prosecutors said a letter from his lawyers asked that the case be continued without plea being entered so further instructions could be taken.
Sheriff Alistair Duff continued the case until later this month.
An alternative charge against the player alleges a speeding offence without the element of dangerous driving.
'Waste of money'
Sheriff Duff said that court papers indicated that an interpreter had been ordered for Kovacevic, who is from Switzerland.
He ordered prosecutors to ensure that if the interpreter was brought to court at the public's expense that Kovacevic was also present.
He said: "I see there's some issue about an interpreter.
"Hopefully the defence agents will be told whether or not the interpreter will be required.
"The court service has ordered one and the accused may not turn up. It will be a nonsense and a waste of money if that happens."
The Swiss defender joined Dundee United in January 2008 after impressing then-boss Craig Levein in a trial period.
He made his debut in a 0-0 draw against Celtic at Parkhead, before picking up a League Cup runners-up medal in his second match for the club.
In November 2008 he received his first call up to the Switzerland under-21 squad.
He has been out injured for much of this season, but is expected to make his comeback early in the New Year.