Harrods sell Tillicoultry boy's game invention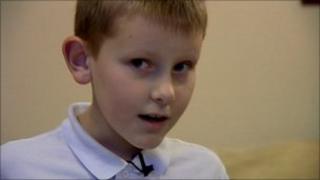 A nine-year-old boy who invented a new board game when he was off sick from school has seen it reach the shelves of upmarket London store Harrods.
Scott Ballantyne, from Tillicoultry in Clackmannanshire, designed Advent-ure two years ago, converting an Advent calendar into a game.
It is set in a zoo with instant prizes as you progress round the board.
The game is now being stocked by many major toy retailers, including Toys R Us.
Scott said: "The main aim is to try to get through all of the animal bits and get to the end before it's five o'clock and closing time."
The young entrepreneur has just returned from the Chicago Toy Fair.
He said he was "very glad and happy" that stores were now stocking Advent-ure.
"I think it's a very nice experience just to have people playing my game and seeing it up on the shelves," he said.
Scott's mother Tricia Ballantyne said her son had put a lot of effort into perfecting the game before it went on sale.
"He worked away with it for months and months.
"Every event that happened like Easter or Halloween or Christmas he came up with another version until eventually I thought maybe this has got something - maybe we should take it forward," she said.
"I think this is going to be a lifetime career for Scott."
Ms Ballantyne said that Scott was currently working on a new game - a version of chess with a space-age theme.
Advent-ure is also on sale at Tillicoultry's Sterling Home Store.
Karen Mackay, a buyer for the shop, said the family-orientated game had "ticked all the boxes".
"We're always looking for new and innovative products and Scott's a local lad so it was absolutely perfect for our remit," she said.