Dundee Students to stage fees 'study-in'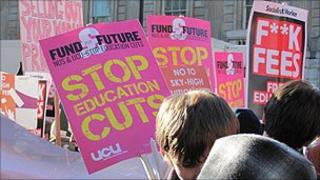 Dundee students are to stage more protests over higher education cuts and proposals to increase tuition fees in England.
Dundee University Students' Association (Dusa) said it would hold a "study-in" at the main library on Wednesday.
Students plan to stay on past the library's midnight closing time for a "peaceful protest", Dusa said.
MPs will vote on Thursday on whether to raise fees in England to an upper limit of £9,000.
The study-in at the main library building will consist of lectures and debate on the future of higher education throughout the UK.
The vote on tuition fees will be screened on Thursday in the union building.
'Sincere hope'
Natalie Coupar, from Dusa, said: "We recognise that many of our members are concerned about their future - particularly at a time when graduate unemployment is at a 17-year high.
"Debate on campus surrounding these issues has increased in the past few months in the fallout from the Browne Review and the Scottish budget that confirmed cuts to higher education."
Dusa has launched a campaign on the main issues affecting higher education called "Our Future".
Ms Coupar said there would be implications for Scotland if the rise in the cap on tuition fees for England was voted through.
She said she "sincerely hoped" the Liberal Democrats would uphold their pre-election pledge to vote against any such increase.
Ms Coupar added: "Scottish students hoping to study in England and Wales will face higher fees than many can afford and universities here will be forced to increase their fees for non-Scottish UK students.
"By allowing English universities to vary fee levels when the issue has yet to be addressed in Scotland creates massive problems for Scottish Universities who will struggle to compete in the global market."