Clackmannanshire Council approves Stirling sharing plan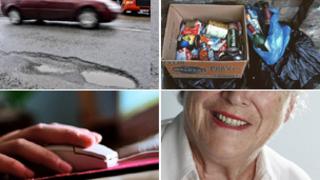 Councillors in Clackmannanshire have formally agreed to share some services with a neighbouring council.
The council hopes it will be jointly delivering social services and education with Stirling by March 2011.
Stirling Council were planning to vote on the proposals on Thursday evening, but the meeting was cancelled because of the weather.
A spokeswoman said the authority "welcomed" the Clackmannanshire decision.
Councillors in Stirling will now consider the plans at a meeting on 13 December.
Several local authorities in Scotland have already announced similar sharing schemes.
'Unique opportunity'
The councils hope to save money through reducing senior posts, taking advantage of vacant posts in both councils and through joint purchasing.
But both authorities said they would retain control over policy and service levels for their areas.
Sam Ovens, leader of Clackmannanshire Council, said: "A unique opportunity has arisen, following retirals from two key posts, and we are making the most of this chance.
"The arrangement reflects a spirit of mutual respect between the two authorities."
The decision was also welcomed by the opposition group leader Gary Womersley.
He said: "The fact that we have agreed to the jointly appointed heads, with councillors maintaining full control on any future decisions is a necessary balance and check that I am glad all parties agreed to."
Following final approval by Stirling Council, joint heads of service will be appointed for education and social services. Both will report direct to the chief executives of Clackmannanshire and Stirling.
Further discussion with staff and trade unions would also take place, the council said.