X Factor's Gamu Nhengu visa ruling reversed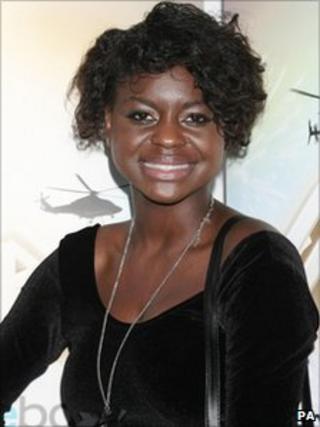 Former X Factor singer Gamu Nhengu and her family have won the latest round of their legal fight to remain in the UK.
The Home Office had turned down a visa renewal application by the teenage singer's mother, but reversed that decision at a hearing in Glasgow.
The 18-year-old and her family are originally from Zimbabwe but have lived in Clackmannanshire for several years.
Officials refused their visa renewal over procedural problems, but said they would now make a fresh decision.
Speaking after the hearing, the family's lawyer, Frances Farrell, said: "The family are pleased that the Home Office have withdrawn their decisions and decided to reconsider my clients' cases.
"The family are hopeful that they will now be granted leave to remain in the UK.
"They want to thank everyone for all the wonderful support they have had."
The solicitor said she hoped a fresh decision would be made within weeks, rather than months.
An application by the singer's mother, Nokuthula Ngazana, to stay in the UK after her visa expired was turned down on the grounds there was an administrative error in the application.
The UK Border Agency said it did not "meet all of the conditions for approval".
Family solicitors said the error was due to Mrs Ngazana giving the wrong bank details, so the fee for the application could not be taken.
The application was judged "out of time" as a result, but the lawyers said it was lodged in time.
The family was told in October to leave the UK voluntarily or face being sent back to Zimbabwe.
Despite initially being told they had no right of appeal, the family was given a lifeline after being granted a full appeal hearing before a judge.
The appeal case was expected to be heard before immigration judge Mungo Deans.
But a Home Office representative told the hearing that he had instructions to withdraw the original decision made on 6 October, over a "technical issue".
Facebook appeal
Myles Matthews said the case "will now be reconsidered and a fresh decision will be made in due course".
Simon Cowell said in October that his lawyers were helping in the family's battle to stay in their Tillicoultry home.
Cowell, 51, maintains bosses at the ITV1 show were not aware of Gamu's visa situation while she was on the programme.
The singer was rejected by judge Cheryl Cole in October despite being trailed as an early favourite to win.
More than 250,000 fans signed up to a Facebook page called Gamu Should Have Got Through, in protest at the decision to leave her out of the final 12.