Arbroath drunk driver jailed for 'senseless deaths'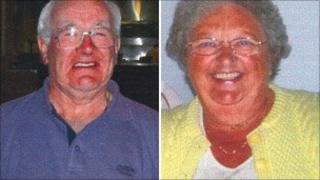 A drunk driver who killed a couple in their 60s as they were driving home from a country dancing event has been jailed for nine years.
The judge said Alistair Ferrier had been responsible for the "senseless deaths of two innocent individuals".
Ferrier crashed into a car in December 2008 near Montrose, Angus, killing the 69-year-old driver John Gibson and his wife Isobella, 68.
The 30-year-old had admitted causing death by dangerous driving.
A passenger in the Gibsons' car, 71-year-old Gertrude Massie, is still not able to walk properly because of the injuries she suffered in the crash.
Ferrier, from Arbroath, drove despite having been denied more alcohol in a pub because he was too drunk.
'Bad case'
He was cut from the wreckage of his black Vauxhall Astra after the crash, surviving multiple fractures to his legs, pelvis and arms. Police found he was almost three times over the drink drive limit.
At an earlier hearing, the High Court in Dundee was told that Ferrier had six previous convictions for driving offences - including driving while disqualified and with no insurance.
Sentencing Ferrier, temporary judge Edward Bowen QC said: "This is a very bad case of causing death by dangerous driving, for which offence parliament has described a maximum sentence of 14 years imprisonment.
"It involves the tragic and senseless deaths of two innocent individuals and the serious and permanent injury to a third, brought about entirely because of your total disregard for the safety of others."
Medical condition
The judge told Ferrier at the High Court in Edinburgh that he had a background of disobeying traffic laws and had, in this case, engaged in a "piece of drunken uncontrolled driving".
"At a point where the road was clear and straight, with an unrestricted view ahead, you caused your car to cross into the oncoming carriageway, giving Mr Gibson no chance whatsoever to avoid you," he said.
The judge told Ferrier, who suffers from nerve condition Carcot-Maire-Tooth, that he had taken into account the fact he had serious medical problems
But he added: "I cannot take the view that ill-health, even of the serious nature described, can in some way detract from the serious consequences of causing an accident of this type whilst under the influence of alcohol."
The judge said an appropriate sentence of 10 years had been discounted to nine because of Ferrier's guilty plea.
Ferrier was also disqualified from driving for 15 years, after which he would have to pass an extended driving test.