Police officers should 'tweet from the beat'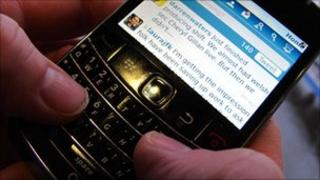 A senior officer at Tayside Police wants police on the beat to engage with the public online. But is "tweeting from the beat" the best way to reassure the public that the police are doing all they can to tackle crime and keep people safe?
Gordon Scobbie wants to kickstart a revolution in Scottish policing.
The deputy chief constable of Tayside says officers should be talking to communities using social networking sites like Twitter and Facebook - and he is willing to push hard for the changes.
"In Tayside I've had a conversation with information security and said that my view is - like it or not - we're going to open up and encourage people to do this," he says.
"Be prepared for it. Because there's going to be a shift in emphasis and we're going to trust people to use it. I think that's just common sense."
DCC Scobbie admits there are risks in allowing officers to use social media for work, essentially unsupervised, but he says the potential benefits make it worth it.
And he argues that when forces are bracing themselves for savage cuts to their budgets, it makes sense to use any tools that make policing more efficient.
The public are using social media in increasing numbers - almost 29 million people in the UK are on Facebook - so the police should be there too, he says.
"Visibility is more than seeing a cop in a yellow jacket walking down the street. Visibility and accessibility is about people feeling confident that somebody is out there doing their job - tackling problems, dealing with local issues," the officer argues.
"I'm committed to public meetings. I'm committed to face-to-face stuff. But if you add up the cost of that, sometimes for very small numbers, that's quite an expensive way of doing business."
He says that forces in Scotland should adopt "virtual community policing", with officers going online and directly engaging with the public about local issues.
"I see this as expanding our reach into communities and becoming better problem-solvers and better listeners," he says.
He points out that many problems in local communities rumble on for years without progress, "trapping up resources", while the public think that no-one is listening to them.
"Why aren't we using social networks to put some of this stuff out into the public domain and saying: 'Here's what we're thinking of doing, what do you think?'" he says.
But would the public really want officers chatting to them online or friending them on Facebook? Would a community genuinely be happy with "virtual policing"?
DCC Scobbie says online conversations should be followed up with traditional face-to-face policing when necessary.
"We're not doing this to be trendy. We're not doing this to say 'look at us'. We should be very focused on the public benefit," he says.
"And if you can improve service and reduce your costs then that's got to be good - particularly where public services have very finite resources."
One officer who has integrated social media into his daily police work is Pc Ed Rogerson - or @hotelalpha9 as he is known on Twitter - who until recently worked the Starbeck beat in Harrogate.
He has been using social media tools as part of his job regularly since he set up a Facebook group that solved a graffiti problem on his beat two years ago.
Pc Rogerson uploaded pictures and videos of the tags to Facebook and made a direct appeal to the town's youngsters, who he believed would know who was responsible.
"It worked and within a couple of weeks we'd got these taggers arrested," he says.
"It wasn't a major crime, but the community was concerned about the graffiti. It was free, it was quick and it worked."
'Reassurance'
For the past year, he has been telling the community about his daily movements through Twitter - including any arrests he makes.
He says the idea was borne out of frustration that most of the people on his beat wouldn't see him, even though he was out on the streets every day.
"Even if I'm sat in a court room waiting to give evidence, people know I exist and what I'm doing.
"I hope that when they see me dealing with the issues they say are important to them - like speeding or anti-social behaviour - it reassures them," he says.
"And I'm hoping that if criminals see that I'm arresting the burglar or the graffiti tagger, they might think twice before coming to my beat to commit a crime."
It is this approach that DCC Scobbie wants to bring to Scotland once he has settled into his new post at Tayside Police.
Trust in officers
He has returned to Scotland after a stint as assistant chief constable at West Midlands Police, where officers are trained and actively encouraged to tweet from the beat, or use sites like Facebook and YouTube.
The officer says there is currently "far greater" use of social media by police in England and Wales than in Scotland and wants this to change.
"Some forces have opened up their systems and are quite happy, some forces have closed their systems down and said you can't do this," he says.
"You've got to have a bit of trust in people in your own organisation - that if they're going to use this stuff, they'll use it responsibly.
"We trust them to go to public meetings and not to say something stupid and show the organisation up in a bad light.
"So why are we so afraid to give people access to things like Facebook and Twitter and other social media tools or the web?"