Record call-outs for Lomond Mountain Rescue Team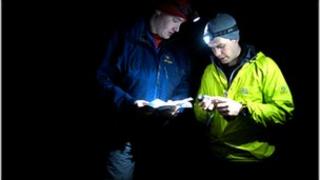 Lomond Mountain Rescue Team have reported a huge rise in the number of call-outs over the past year.
The team said it had been sent to 32 incidents this year - almost double the normal number - and would expect more call-outs before the end of December.
Simon Jones, who has been with the team eight years, said no-one was sure why there had been such a sharp rise.
The Mountain Rescue Committee of Scotland figures said 2010 would be the busiest ever for teams across Scotland.
Lomond Mountain Rescue Team (LMRT) covers much of the Loch Lomond and the Trossachs National Park and also the Campsie Fells.
Mr Jones, one of LMRT's emergency medical technicians, said the team had seen lots of activity clustered at certain times of the year in particular places - especially Conic Hill near Balmaha.
He explained: "We're on about 32 call-outs this year, which is nearly twice the average.
"For some reason it's been a very, very busy year so far - and it's still not finished yet."
The team was called out 17 times in 2009 and just 15 times in 2008.
Bob Sharp, who collates statistics on all rescues across Scotland, said the Lomond figures could be a random blip, but told BBC Scotland they reflected a general rise in the number of call-outs over the past decade.
Dr Sharp, an executive officer for the Mountain Rescue Committee of Scotland, added: "I've received the 420th report for the year and I have another 50 or so waiting to be analysed.
"By the end of the year we should probably be exceeding 600 incidents in the whole of Scotland.
"If that is the case, it'll be the highest number ever, and that will just mirror the trend that's been taking place in the last 10 years."
Self-reliance 'decline'
Dr Sharp attributes the rise to a number of factors - including the big increase in the number of non-mountaineering incidents teams are asked to attend, like searching for missing people or suicide victims.
And he believes that mobile phones - while enabling rescue teams to reach casualties much faster - are tempting some people to call for rescue sooner than they need it.
"It's not that the mountains are in any way becoming more dangerous, but people are more inclined to call for help earlier than they probably should do," he said.
"There's other information to suggest that this lack of self-reliance is an increasing problem."
Rescue teams across the UK are made up of volunteers.
In Scotland they are funded primarily by donations, but also receive an annual £300,000 grant from the Scottish Government which is divided among the 31 teams.