Teenager charged over Plean school fire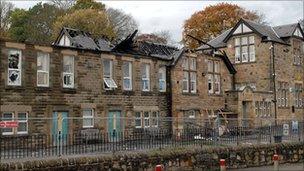 A teenager has appeared in court charged with causing a fire which badly damaged a primary school.
Andrew Stretton was accused on petition of breaking into a shed at East Plean Primary School, Plean, on Saturday and stealing a quantity of toys.
It is alleged the 17-year-old, from Plean, wilfully set fire to a cardboard box in the shed, which then set the shed and the adjacent school on fire.
Forty firefighters were called to tackle the blaze on Saturday evening.
The fire was brought under control early on Sunday morning, but the school, built in 1874, was badly damaged.
Mr Stretton made no plea or declaration at the brief private hearing at Stirling Sheriff Court.
Sheriff Peter Ferguson committed him for further examination and released him on bail.
A 15-year-old boy charged in connection with the break-in, but not the fire, was referred to the reporter to the children's panel.
It understood that a 12-year-old boy, who had also been charged, was released after it was decided to take no further action against him.
The school and nursery were already scheduled to be closed for the first three days of this week for staff training.
Its 160 pupils face moving into temporary accommodation when they return on Thursday.
A spokeswoman for Central Scotland Fire and Rescue Service said: "There were no injuries, as the school was not in use at the time of the fire, but the whole building was badly damaged by fire, smoke and water.
"It is not clear how much damage there is exactly, but the children cannot return there this week."
Stirling Council said parents would be informed about the arrangements in due course.
A meeting is to be held on Wednesday evening at the Balfour Centre to "discuss options", a council spokeswoman said.
"Options will be put to the community and parents on Wednesday night," she said.
"Engineers will be sent in to see how severe the damage is."
The spokeswoman said the council had not yet been able to gain access to the school as it was still a crime scene but added that it the damage looked "pretty bad".
Related Internet Links
The BBC is not responsible for the content of external sites.