Conditions set for new £330m Clackmannanshire village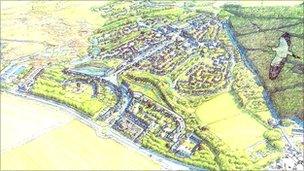 Councillors have reached an agreement that will see the creation of a new £330m village in Clackmannanshire.
The agreement sets out a number of conditions for the developers of Forestmill village, including the building of a new primary school.
Planning permission for the village, close to the former opencast coal site at Meadowhill, was approved last year.
More than 1,000 homes will be built in the development, which is expected to take up to 15 years to complete.
It is the largest application to receive planning permission from Clackmannanshire Council. The village will be built by Hermiston Securities, of the Muir Group.
The council's "section 75 agreement" states that community facilities, a hotel, leisure club and golf course must be built at Forestmill.
The opencast site will also be enhanced and restored early on in the development, councillors said.
Of the 1,250 homes, 275 will be affordable housing, including sheltered housing, rented and shared ownership properties.
The council said it would be looking after all the open space, landscaped areas and woodland in the new village.
Councillor Eddie Carrick said: "Forestmill is the largest ever development to receive planning permission in the council's history and will bring a huge boost to Clackmannanshire, with millions of pounds of private sector investment and hundreds of jobs created.
"I am glad that the council's work with Hermiston Securities has brought this section 75 agreement to fruition."
Related Internet Links
The BBC is not responsible for the content of external sites.