Dundee V&A design winner chosen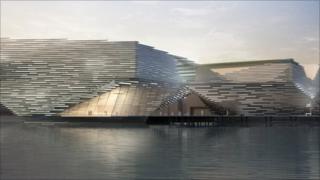 A winning design has been chosen for the V&A Museum planned for Dundee's waterfront.
Japanese architect Kengo Kuma beat off competition from five other short-listed companies with his vision for the £45m development.
More than 120 firms took part in the competition to design the landmark building, which is due to be opened in 2014.
The building will be sited at Craig Harbour on the banks of the River Tay.
The V&A at Dundee is being built in collaboration with the Victoria and Albert Museum in London.
Local partners in the project include the University of Dundee, the University of Abertay, Dundee City Council and Scottish Enterprise.
'Great honour'
Lesley Knox, chairman of the V&A at Dundee project and the jury panel, said Mr Kuma's design had been a unanimous choice that would "delight visitors".
He said: "It demonstrates a clear understanding of the city, offers a new experience of the river, and will be as exciting internally as it will be externally.
"This has the potential to be one of Europe's most exciting buildings."
Mr Kuma said: "It is a great honour to hear the news and my team and I are grateful for this significant opportunity.
"I am thrilled to be able to work with those at V&A at Dundee in order to give shape to their vision, to contribute meaningfully to the cultural richness of the city."
The architect said the building would combine the tradition and heritage of London's Victoria and Albert Museum with new ideas.
'Exhaustive' process
The other architects shortlisted in May were Delugan Meissl Associated Architects, REX, Snøhetta, Steven Holl Architects and Sutherland Hussey Architects.
All the designs have been on public display since the end of September and the panel said comments from some of the 13,000 people who visited the exhibition were taken into the account.
The panel interviewed the architects and also viewed some of their previous work before making its decision.
Panel member Mike Galloway, from Dundee City Council, said the six proposals had been subjected to an "exhaustive scrutiny".
None of the submissions were excluded on cost grounds, he said.
Mr Galloway, director of city development at the council, added: "The Kengo Kuma design gives us something which is bold and ambitious but buildable and practical.
"It is a beautiful stone building which elegantly meets the requirements we laid out in the brief. This is a harmonious and integrated response to this unique site, which enhances the overall waterfront project."