X Factor's Gamu given right to immigration appeal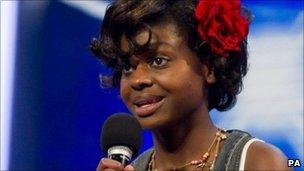 X Factor contestant Gamu Nhengu's family have been granted right to appeal against a decision to force them to leave the country.
Solicitor Peter Farrell said the case would be heard by the Immigration Court in Glasgow on 26 November.
The UK Border Agency had previously insisted that Gamu, 18, her mother and two brothers had no right to appeal against the decision.
The family, who live in Scotland, face being sent back to Zimbabwe.
Gamu's mother Nokuthula Ngazana was permitted to stay in the UK while she studied at university, with Gamu allowed to remain in the country as her dependant.
The family live in Tillicoultry, Clackmannanshire.
But Ms Ngazana's application was turned down, with the UK Border Agency saying it did not "meet all of the conditions for approval".
There was said to have been an administrative error in the application.
The family's solicitors said the error was due to Ms Ngazana giving the wrong bank details, so the fee for the application could not be taken.
The application was judged "out of time" as a result, but the lawyers said it was lodged in time.
Related Internet Links
The BBC is not responsible for the content of external sites.