Lorraine Kelly joins veterans for Scots Poppy Appeal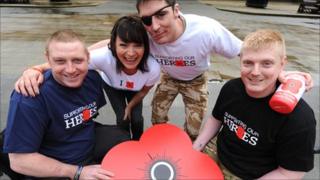 Lorraine Kelly has joined veterans injured in the war in Afghanistan to launch the Scots Poppy Appeal.
The television presenter met three soldiers, who lost limbs following explosions, set to feature in a new hard-hitting advertising campaign.
Last year's appeal by Poppy Scotland raised more than £2.2m for injured veterans and their families.
Speaking at the launch event in Dundee, Ms Kelly said she was "extremely humbled" to meet the young soldiers.
They included L/Cpl David Timmins, a bomb disposal specialist with the Royal Logistics Corps, who lost his right eye and suffered head, liver and kidney damage as a result of an IED (improvised explosive device) explosion.
'Small act'
Only days earlier, he had saved the life of a colleague who was seriously injured after an explosion, an act for which he received the Queen's Gallantry Medal.
Also there was Sgt Gary Jamieson from the Scots Guards who lost his legs and left arm after stepping on an unidentified IED and Pte Paul Lambert, from 1 SCOTS (Royal Scots Borderers), who also lost both his legs as a result of an IED.
Ms Kelly said: "The sacrifices they have made are unimaginable for most people. Wearing a poppy may seem like a small act in return for what our servicemen and women have done - and are continuing to do, but the money that we give really can make a big difference to help people like Paul, Gary and David."