Perth pupils find mystery truffles in school garden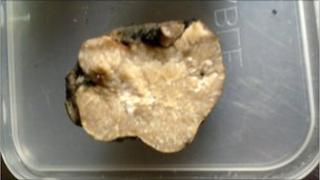 Pupils harvesting vegetables from a school garden have dug up a "mystery" truffle, which experts are struggling to identify.
The children at Moncreiffe Primary School in Perth discovered what was initially thought to be a Scottish summer truffle.
But wild food expert Andrew Fraser said it was not a variety he had ever seen before in Scotland.
If edible, the truffle could be worth hundreds of pounds per kg.
Mr Fraser told BBC Scotland it was potentially a very exciting find.
"They are truffles - we just don't know what sort they are," he said.
"They're not Scottish summer truffles. I need to get another expert to look at them. They're a whitey-brown colour - but white truffles have never been found in the UK before."
Special find
The school started the vegetable patch as part of a project to help pupils understand where food comes from.
A kitchen is also planned to teach children how to create meals from scratch.
Moncreiffe Primary School head teacher Karen Young, said: "Children from one of the school gardening groups were harvesting their potatoes, onions and beans, when they dug up something they didn't recognise.
"The teacher who leads the gardening group, Jane Savage, had an inkling it might be something rather special and contacted one of the school's business partners, local well-known chef Graeme Pallister.
"He confirmed that the children had indeed found what looked like a truffle."
Mrs Young added that the pupils and staff were amazed at the discovery.
And Mr Pallister said he was "jumping" with excitement when he heard about the find.
"There's nothing else really like them. There's no flavour to truffles - they just perfume the food," he said.
"It's the aroma around them which drives the senses, which gives a flavour. They're very, very unique and very sought after."
Mr Pallister, chef and patron of Perth's 63 Tay Street restaurant, said given the chance he would cook the truffles with a simple butter pasta.
He said he believed it was the first time truffles had been found in Perthshire.
The pupils found about 250g of truffles, but the chef believes there could be more in the garden.
Black truffles are not as prized as the white variety, which can sell for up to £2,700 per kg, but only the black ones are found in Scotland.