Work begins on destroyed Scone Palace archway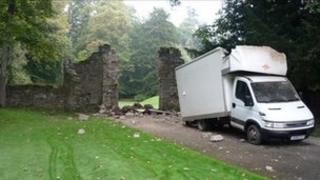 Emergency work has begun on an ancient archway which was demolished when a van crashed into it.
Officials at Scone Palace said it would take about a week to make the historic 16th Century archway safe, depending on the weather.
The arch, which marks the approach to an abbey which once stood in the grounds, was destroyed on Monday.
The palace said it would tender for the reconstruction project after the initial work was completed.
A team of conservation architects, led by Midlothian-based Addison Conservation and Design, are currently at the site.
The special stage of the Rally of Scotland, scheduled to take place at the palace on 15 October, is expected to go ahead as planned, officials said.
Elspeth Bruce, administrator at Scone Palace, said she was grateful for the support shown by Historic Scotland's conservation team and Perth and Kinross Council over the past few days.
"Their advice has been, and will continue to be, invaluable as we begin the painstaking work of restoring the archway to its former glory," she said.
"This iconic emblem has stood at Scone for five centuries, and we hope that after restoration it will be here for many more centuries to come."
Visitors entering Scone, the ancient crowning place of Scottish kings and original home of the Stone of Destiny, would have passed under the archway for hundreds of years.
But on Monday afternoon a large van smashed through the stone. Two crests which were inset into the arch came crashing down.
The van is understood to have been driven by contractors picking up a marquee which had been used for the weekend's Perth Hunt Ball.