Speeding driver jailed for death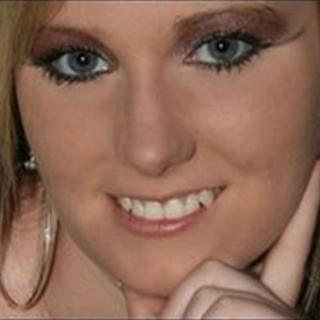 A driver who was on drugs has been jailed for seven years after causing a crash which killed a 20-year-old woman.
Brian Redfern, 27, was racing a stranger on a Clackmannanshire road in January when he hit an oncoming car driven by Rachael Ward.
The driver of the car Redfern was racing, 21-year-old Craig Lawson, was fined £600 for dangerous driving.
Stacey Ross, Redfern's passenger, was badly injured in the crash, which happened on the A908 near Fishcross.
The 17-year-old had to be cut free from the wreckage and was permanently disfigured in the collision.
Redfern, from Tillicoultry, admitted at an earlier hearing to causing Ms Ward's death as she returned home from work.
At the High Court in Edinburgh, Lord Tyre said the woman had died as a result of Redfern's "grossly reckless" driving.
'Extremely aggressive'
He said: "You indulged in a sustained and deliberate course of very dangerous driving.
"For some minutes before the fatal collision you had at times been driving well in excess of the speed limit, causing other vehicles to swerve to avoid you.
"When Mr Lawson overtook you, you increased your speed to make it difficult for him to complete his manoeuvre.
"The only explanation you have offered for this extremely aggressive behaviour is that you do not like being overtaken."
The judge said Redfern and Lawson's "bumper to bumper driving" had made a crash almost inevitable.
Investigators estimated Redfern had been travelling at about 77mph just before the crash, on a stretch of road limited to 40mph.
He was also found to be driving under the influence of drugs after taking amphetamine - a drug likely to cause increased risk taking, the court heard.
Only child
Judge said responsibility for the "dreadful events" lay with Redfern, despite his attempts to blame Lawson.
He was disqualified from driving for 10 years.
Lawson, from Coalsnaughton, was disqualified for two years after admitting dangerous driving.
After the hearing, Miss Ward's parents said no sentence would justify or compensate for the loss of their only child.
In a statement read by Heather Duncan, a cousin of the victim, they said: "On 16 January, returning from work, Rachael's life was tragically and senselessly taken and our nightmare began - a nightmare that will never end as we struggle through each day without Rachael.
"She did nothing wrong that night but both the other drivers had a part to play in this tragedy and they will have to live with the consequences of their actions as we have to try to live without Rachael.
"No words can express the devastation this has caused her parents, her boyfriend and the rest of her family and her many friends."