Historic Scone Palace archway destroyed by contractor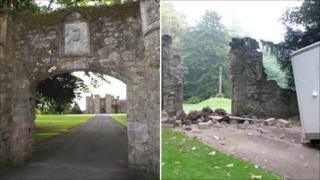 An ancient archway at Scone Palace in Perthshire has been destroyed after a van crashed into it.
The historic 16th Century arch, which marked the spot of an Augustinian Abbey that once stood on the site, was hit by the van being driven by a contractor.
Officials at the palace said they were "devastated" by the accident and said conservationists were set to visit.
It is understood the contractor was on site to remove a marquee used at an event over the weekend.
Suzanne Urquhart, chief executive at Mansfield Estates said: "We were notified of the accident shortly before 1pm today and took immediate steps to make the area around the archway safe.
"We are currently taking advice from Historic Scotland and have arranged for conservation architects to examine what remains of the archway as soon as is practical, with a view to undertaking a reconstruction project in the longer term.
"Clearly we are devastated that such a priceless monument and important piece of Scottish history has been destroyed in this manner, however we are thankful that neither the driver nor any member of the public was injured".
Scone Palace is best-known as the place where former kings of Scotland were crowned and the original home of the Stone of Destiny.
Public access to the palace and its grounds remains unaffected by the incident