Dundee V&A museum designs unveiled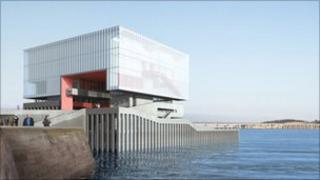 Six designs for the V&A Museum planned for Dundee's waterfront will be unveiled at an exhibition in the city.
The architects were shortlisted in May and asked to submit their designs for the building, due to be opened in 2014 as a centre of 21st Century design.
Among the six are Edinburgh-based firm Sutherland Hussey.
The other companies are Delugan Meissl Associated Architects, Kengo Kuma, REX, Snøhetta with Gareth Hoskins Architects and Steven Holl Architects.
More than 120 firms took part in the competition to design the landmark building.
Sir Mark Jones, director of the Victoria & Albert Museum in London, said they were "fantastic designs from brilliant architects".
"It's great to see that the competition for the V&A at Dundee has attracted such a strong international response," he said.
The V&A at Dundee is being built in collaboration with the Victoria and Albert Museum.
'Highly rated'
Local partners in the project include the University of Dundee, the University of Abertay, Dundee City Council and Scottish Enterprise.
The building will be sited at Craig Harbour right on the banks of the River Tay.
Mike Galloway, from Dundee City Council said the range of designs on display were "very dynamic and exciting".
"Our shortlist features some of the brightest names in world architecture and design and I think they have shown with these designs why they are so highly rated," he added.
The exhibition is in the library of Abertay University on Bell Street in Dundee, from 29 September to 4 November.