Police crackdown on underage drinking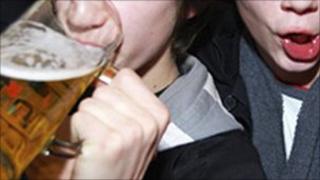 Tayside police have confiscated a large amount of alcohol from youngsters in Monifieth and Carnoustie as part of Operation Dry-Up.
The operation is an ongoing crackdown on underage drinking in the area.
Patrols were carried out last weekend and officers found groups of youths who were either in possession of alcohol or in the company of youngsters with drink.
Officers confiscated cider, lager, vodka and liqueurs.
'Community impact'
Operation Dry-Up is one of a number of ongoing initiatives being conducted within the Focus on Alcohol Angus project.
The project is being driven by the Angus Community Planning Partnership which comprises Angus Council, Tayside Police, the voluntary sector and the Angus Community Health Partnership.
Cons Mark Callison, Carnoustie community officer, said: ''The problems created by alcohol abuse amongst youngsters impacts on others in the community, who in turn, suffer from acts of anti-social behaviour and crime.
"While under the influence of alcohol, young people also put themselves in considerable personal danger.
''This is an ongoing initiative and patrols will continue and are regularly carried out in the evenings and especially at weekends.
"The message is clear, if you are underage and drink alcohol, you will be caught. Furthermore, those who sell alcohol to young people, or buy it on their behalf will be prosecuted.''