Bo'ness garden welcomes a rare visitor from England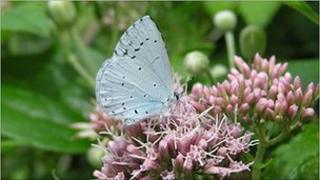 A rare butterfly usually only seen in England has been spotted for the first time in Scotland.
Falkirk Council said the Holly Blue made its first recorded visit this summer to a garden in Bo'ness.
Records suggest that this species is slowly moving northwards, however it is still a bit of a novelty in Scotland.
Another infrequent visitor, the Comma butterfly, was also been seen in the Carronshore area after being spotted for the first time last year.