Changing room blaze at Ninewells hospital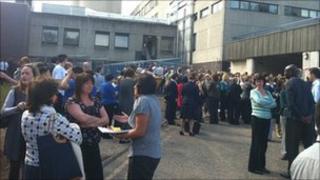 Hundreds of people had to be evacuated from Dundee's Ninewells Hospital after a fire broke out in a changing room.
Tayside Fire and Rescue Service said they were called to the building at about 1140 BST after someone reported seeing smoke.
The blaze started on the level five south side corridor, in the main female nurses changing room.
The fire is now under control and no-one was injured. The cause of the blaze is not yet known.
NHS Tayside said the changing room had been badly damaged by the fire.
Brian Main, site manager at Ninewells, said: "Firefighters attended the fire and quickly extinguished the blaze. The damage has been extensive and the changing room gutted, but thankfully no-one was injured.
"The cause of the blaze is not known at this stage."
'Major incident'
Staff and patients had to leave the main admin block after the alarm sounded and could not return to the building for about two hours.
Witness Natalie Lafferty wrote on Twitter during the evacuation: "We can now see patients on trolleys who've been evacuated from Ninewells."
The health board confirmed a "small number" of patients were evacuated but said overall care was unaffected.
NHS Tayside's chief operating officer Gerry Marr said the hospital's major incident plan had been evoked during the fire.
He added: "We have made the decision to cancel our elective surgery list for the rest of the day but our outpatient clinics are running as normal. Ward areas are also unaffected so the public can visit patients as normal.
"We are making arrangements for staff who have been directly affected by the blaze in the changing room and who may have lost belongings in the fire."