Charity buys North Carr lightship for £1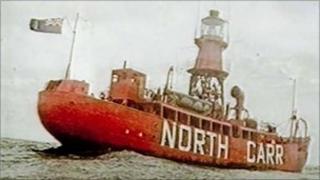 A marine charity has bought a historic lightship moored near the centre of Dundee for just £1.
Taymara said it now needed to raise £500,000 to restore the North Carr lightship, launched in Glasgow in 1933.
Trustee Bob Richmond said Taymara would use the ship as its headquarters and as a base to help rehabilitate youngsters with drug and alcohol problems.
The vessel has was bought from the Maritime Volunteer Service (MVS), who put it up for sale in August 2009.
The decision sparked anger from Taymara - a charity set up by former MVS members in 2008 - who said they had not been consulted over the sale.
Mr Richmond said: "We've been involved with the lightship for seven or eight years and we spent £55,000 five years ago repainting the superstructure.
"We've commissioned a naval architects to carry out a sensitive restoration of the vessel, but we need to raise about £500,000 first."
The North Carr will remain moored in its current position in Dundee.
The vessel is famous for its role in the 1959 Broughty Ferry lifeboat disaster, in which eight men lost their lives.
'Very rusty'
The crew of the Mona, the Broughty Ferry RNLI lifeboat, went to the aid of the North Carr which had broken free from its moorings in St Andrews Bay in Fife.
But all the men perished in severe storms as they battled to reach the lightship.
Mr Richmond said the vessel was an important piece of marine history that unusually had remained intact since it was decommissioned in 1975.
"Its outward appearance looks very rusty. There's been very little work done on it for a year, which is a shame," he said.
"But internally it's like going back in time. All the original fittings, generators and engines are there.
"That's why it's such a unique vessel. Many of them were converted into restaurants or offices but this one survived."