Dundee schoolgirl tells of Rottweiler attack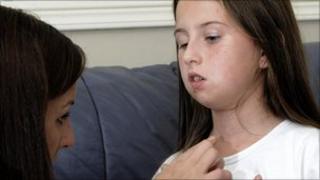 The 10-year-old schoolgirl injured after she was pulled off her bike and attacked by a pair of rottweilers has spoken about her ordeal.
Rhianna Kidd described how she had stopped before crossing the road near her grandmother's house in Dundee when the dogs pounced and began biting.
Her grandmother Irene Grady rushed out into the street to protect her.
A 33-year-old woman had been charged under the Dangerous Dogs Act 1991 in connection with the incident.
Rhianna underwent emergency surgery after the attack in Dryburgh Street at 1100 BST on 29 August. The dogs were put down the following day.
Growling and barking
Speaking from Mrs Grady's home, Rhianna said: "I was riding my bike to my granny's house. I stopped at the side of the road to look left and right, like I've been told, before I crossed over the road.
"Then I saw the dog, and it and another one circled me. I pedalled my bike really fast. They were growling at me. One started barking and then it grabbed me off my bike.
"One of the dogs was dragging me along the road. They were biting me."
Rhianna said her grandmother had come out to protect her from the attack before taking her inside.
"She took me in to her house but the dogs were following me," she said.
"Granny tried to get me to calm down because there was blood on me. I was scared because I didn't know what was going to happen to me."
The 10-year-old's jaw was broken in two places and she had severe gashes all over her body after the attack.
She was taken to the city's Ninewells Hospital and needed hundreds of stitches in her face, neck, arms and legs - and to re-attach part of her left ear, which was almost bitten off.
Rhianna said: "I knew I'd been bitten by the dogs and it was sore.
"I love my granny for helping me. She was brave and I was brave too."
Her badly bitten arm and leg remain in bandages.
But the school girl said she was recovering, and was happy to be at home with her family and Casper, her grandmother's Yorkshire terrier.
"I'm not scared of any dogs now," she added.
"It's just good to be home."