Popular Aberfeldy restaurant Chillies was 'filthy'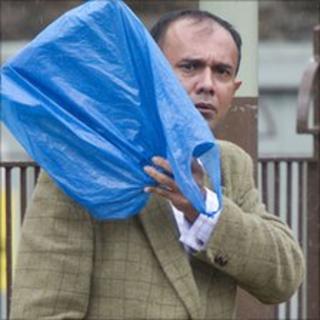 A town's top-rated restaurant was found to be filthy when visited by hygiene inspectors, a court has been told.
Inspectors discovered broken glass in a box of food and saw other ingredients stored beside a crumbling wall in the cellar at Chillies in Aberfeldy.
The Indian restaurant, listed by Trip Advisor as the best place to eat in the Perthshire town, also had dirty walls, windows and floors, the court heard.
Owner Mahumud Shaheen admitted two charges and was fined £800.
Perth Sheriff Court was told the doors, pipes, grouting and the handwash basin and taps were found to be unclean during a visit by council inspectors on 28 September last year.
'Negligent manager'
The 44-year-old owner admitted failing to keep the premises clean and also not storing raw ingredients in the appropriate manner.
Inspectors visited the restaurant and deemed it to be so poorly maintained that they came back the following day with a video camera to record evidence.
Solicitor Jim Eodanable, defending, said Shaheen, from Aberfeldy, had been running the business successfully since 1996.
However, he said his client had taken on a second project, in Glasgow, and had appointed a manager at Chillies who failed to maintain hygiene standards.
Mr Eodanable said Shaheen had sacked the negligent manager and had since returned to spend more time at Chillies to restore its reputation.
The court was told that Chillies had been inspected again in April this year and had been awarded the highest standard of hygiene pass by the inspection team.
Sheriff Robert McCreadie said: "Every customer has the right to expect that food is prepared and kept safely on food premises.
"Clearly you failed in your duty, but I take into account the improvements which have been made."
The restaurant is rated as the best in Aberfeldy by website Trip Advisor, which gives it four out of five stars based on customer reviews.