Stirling bee project wins top UK award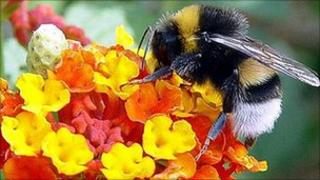 A Stirling bumblebee project has been voted the UK's best environment project at the National Lottery Awards 2010.
The Bumblebee Conservation Trust, set up in 2006 with lottery funding, beat hundreds of projects to win the title.
The charity, which has more than 6,000 members, aims to raise awareness of the importance of bumblebee conservation to the countryside and crop security.
Charity director Dr Ben Darvill said it was an honour for everyone involved to receive national recognition.
He said: "The awards have given us a great opportunity to highlight this cause and how we've put our funding to good use.
"It's great to be able to show anyone who has ever played the lottery what a real difference their money can make.
"We have received fantastic support throughout all stages of the competition and I would like to thank everyone who has voted for us."
The charity, which is based at Stirling University, works with the public, farmers and land managers across the UK to prevent further decline of bumblebee populations.
The National Lottery Awards event was broadcast live from London's Roundhouse on BBC One on Saturday.
Celebrity guests included Tess Daly, Benedict Cumberbatch, and Amir Khan.