Judges split over grandmother's WWII gun sentence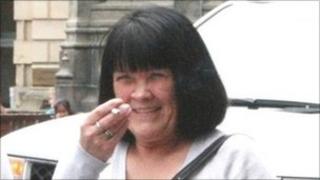 Appeal judges are split over the five-year sentence handed to a Dundee grandmother for possessing an "heirloom" World War II pistol.
Gail Cochrane, 53, had kept the gun for 29 years following the death of her father, who had been in the Royal Navy.
She was jailed for five years in June, but appealed against her sentence.
The two judges at the Court of Criminal Appeal in Edinburgh could not reach agreement on the case. It will be heard by three judges at a later date.
Cochrane, who admitted illegal possession of the firearm, served six weeks in jail before being freed on bail on 29 July pending the appeal being heard.
'Innocent possession'
The five-year imprisonment is the the minimum term laid down by parliament unless exceptional circumstances can be shown.
At the trial, judge Lady Smith said she was unable to find herself satisfied that it was one of the rare cases where such circumstances existed and told the court she had no alternative but to impose the sentence.
But Cochrane's solicitor advocate Iain Paterson argued that Lady Smith had erred over the issue of exceptional circumstances.
He told the appeal court other disposals could be considered, including community service and admonition.
Mr Paterson said the weapon had "innocently come into her possession" and added: "It has been in her possession without being unlawfully used for almost three decades.
"There was no ammunition with this particular weapon or evidence that it had been discharged," he said.
Lord Clarke, who heard the appeal with Lord Hardie, pointed out that Cochrane had never been jailed before but was then confronted with a five-year prison sentence.
But Lord Hardie said: "The use of guns is becoming more and more prevalent in Scotland. We are seeing more and more crimes involving the use of guns, including murders.
"Guns seem to be becoming the weapon of choice of organised criminals."
The gun was found at Cochrane's home in Dundee on 17 June 2009 by police looking for her son after he failed to attend a justice of the peace court.
Cochrane let the officers in and during a search the World War II weapon was found under a mattress in her bedroom. It was in poor external condition but was found to be capable of firing.
Cochrane's bail was continued ahead of a further hearing in her appeal.