Payout after Marks & Spencer spillage claim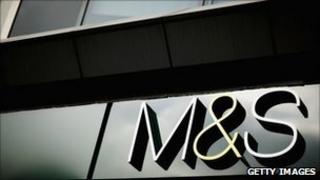 A 71-year-old woman who broke her hip after slipping on a spilled prawn cocktail has won £7,500 from Marks & Spencer.
Janet Morritt lost her footing when she stepped in a puddle at the Perth branch of the store in February 2009.
The charity worker fell and slammed against the chilled sandwich cabinet. She sued Marks and Spencer for £30,000.
The retail giant disputed the claim but she was awarded compensation by Perth Sheriff Court.
Mrs Morritt told the court that she was left with a plate in her hip after emergency surgery and that the incident has left her with a permanent limp and unable to drive.
Macmillan Cancer volunteer Mrs Morritt, from Perth, claimed the shop was to blame for the accident for allowing the cocktail sauce and water, which had dripped from a Valentine rose packet, to lie on the floor.
'Fault and negligence'
Her writ said: "Her left foot slipped on a wet part on the floor. Alongside the stand containing the flower display was another stand. She tried to save herself by clutching the stand.
"As she did so her right foot slipped. She was unable to save herself and fell to the ground sustaining the injuries. Her back was jammed against the display cabinet behind her. The cabinet contained sandwiches."
Mrs Morritt was given help by a member of staff, Edith Hannah, and was told that there had been a spillage of prawn cocktail from the nearby salad display shelf.
The action claimed that the accident was "caused by the fault and negligence of the defenders".
It added: "It was their duty to take reasonable care for the safety of the pursuer and not to expose her unnecessarily to the risk of injury."
Mrs Morritt said she was in hospital for eight days and had to undergo an operation to her hip which required a screw and plate.
She said she needed a wheelchair to cover long distances.
Decree granted
"She continues to suffer pain and inconvenience, requires to walk with a stick and has a limp. She struggles with bending and getting in and out of the bath," the writ said.
Marks and Spencer disputed the claim, saying Mrs Morritt had a "duty to watch where she placed her feet".
The store said: "She failed in her duties and materially contributed to any loss, injury or damage sustained. But for her failure the accident would not have happened."
However, a court official confirmed: "Decree in the case was granted for the sum of £7,500."