Drunk driver caught in police station car park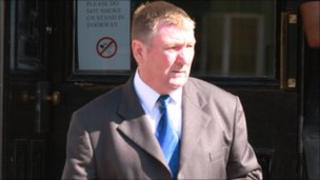 A drunk driver was caught after taking a wrong turn and ending up in a police headquarters car park.
Unemployed builder Edward Gallagher, 52, was on his way home from a night out with friends when he got lost.
Officers at Central Scotland Police HQ in Stirling found him "reeking" of drink in his car on the private access road to the staff car park.
Gallagher, from Denny, admitted drink-driving. He was banned for 18 months and fined £150.
Stirling Sheriff Court heard that police officers had seen Gallagher at the wheel of his Vauxhall Corsa with his engine running, just after midnight on 7 August.
Sue Ruta, prosecuting, said they had asked him to take a breath test, as he "reeked" of drink, and found he was more than twice the legal limit.
Failed business
He was detained and charged at the police station.
Gallagher pleaded guilty to "driving on a road or public place, namely Central Scotland Police Headquarters, St Ninians, Stirling".
Ken Dalling, defending, said Gallagher had worked in the building industry for 28 years, but the business he worked for had gone into receivership two years ago.
Attempts to set up his own business had failed, Mr Dalling said.
He told the court Gallagher had driven to meet friends for a night out and planned to get the bus home, but decided to take his car instead.
Mr Dalling added: "He tried to head home, and ended up taking a wrong turn and ended up in the police headquarters.
"I think this case clearly shows the problems of drinking and driving, and why people just shouldn't do it."