Minister pledges video games industry support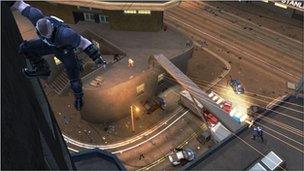 The video games industry has the "world-class talent and skills" to prosper after recent setbacks, the Scottish culture minister has said.
Fiona Hyslop visited two games firms in Dundee, which has long been viewed as an international hub for the business.
But the city has suffered blows with the recent collapse of Realtime Worlds and the UK government cancelling tax relief for the industry.
Ms Hyslop said the creative industries were vital to Scotland's economy.
She met bosses at Tag Games and Dynamo Games, who have both recently received £300,000 from the Digital Media IP Fund.
The initiative encourages co-investment from the private sector to generate revenue for Scottish-based businesses.
Tag Games, in partnership with Channel 4, is producing new interactive games based on some of the channel's most successful television brands.
And Dynamo Games has been commissioned to create a new interactive Facebook game, Beauty Town, as part of Channel 4's 4iP initiative.
Ms Hyslop said: "Our creative industries can be a cornerstone of Scotland's economic future, and digital media will be vital to that success.
"That is why, through initiatives like the Digital Media IP Fund, the Scottish government is supporting the sector to help it flourish and deliver jobs and investment opportunities here in Dundee and elsewhere in Scotland.
"While the past month has been tough for Dundee's digital industries, the Scottish government is doing all it can to offer advice and assistance to those who have lost their jobs."
Bafta-winning Realtime Worlds was founded by the creator of Lemmings and Grand Theft Auto and was seen as one of the biggest players in the UK gaming market.
The firm employed about 250 people, largely at its main development operations in Dundee, but also at its parent company head office and online operations base in Colorado.
Realtime is now in the hands of administrators, who have said they plan to sell the business as a going concern.
The company has since re-employed 23 staff, who were laid off, to work on social gaming project "MyWorld", which administrators hope will attract potential buyers.
The relief was cancelled as part of a raft of cost-saving measures in the budget in June.
The minister said she had raised the issue again with UK culture secretary Jeremy Hunt.
Related Internet Links
The BBC is not responsible for the content of external sites.