Losses widen at Dawson International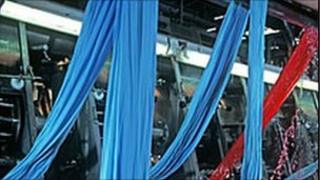 Kinross-based textile firm Dawson International is to continue to cut costs and address its pension liabilities after reporting widening first-half losses.
The firm revealed its operating loss climbed year-on-year from £3.1m to £3.4m for the six months to 3 July.
Dawson said a seasonally stronger second-half was expected to reverse the first-half loss.
But it added full-year results could be lower than last year.
Dawson, which produces cashmere jerseys and fine bed linen, last year sold its Todd and Duncan cashmere yarn business to a Chinese firm for £6.1m.
In the past six months it also completed its phased exit from its Home Furnishings Branded division.
The company said in a statement it intended to further reduce its cost base and ensure its organisational structure was "efficient and responsive".
'Seasonal' business
Chairman David Bolton said trading in the first half of the year reflected the seasonality of the businesses and the exit from Home Furnishings Branded.
He added: "The pre-exceptional operating loss for the first half has widened despite an improvement in underlying sales and a reduction of losses in Home Furnishings Branded.
"While we expect to reverse the loss in the second half, we anticipate that pre-exceptional operating profits for the full year will be lower than last year due to increased commodity prices which cannot be fully passed on in the current economic climate."
Dawson revealed in March that its pension liabilities had almost trebled over the year to £19.3m.
The company said it would continue its dialogue with the pensions trustee during the second half of the year "to address our key priority of reducing the pension deficit and associated costs".