Abertay University to open London 'outpost'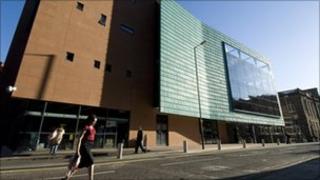 Postgraduates in London will soon be able to study for an Abertay University degree, despite living hundreds of miles away.
The Dundee-based university has signed a deal with London International College that will allow students to take an Abertay MBA qualification.
A spokesman for the university said undergraduate courses would hopefully be offered in the future as well.
The programme will be run by the university's Dundee Business School.
Students will have the opportunity to graduate in Dundee alongside other Abertay postgraduates.
'Close partnership'
Professor Heather Tarbert, head of the Dundee Business School, said: "We are delighted to begin this prestigious working relationship with London International College, which will see hundreds of postgraduate students receiving an Abertay University education in London.
"Dundee Business School prides itself on creating strong, independent learners capable of handling complex, challenging business roles."
Theo Ktorides, principal of London International College, said the agreement was the beginning of a "strong working relationship" between the two institutions.
"Working in close partnership with our colleagues at Abertay University in Dundee will guarantee that more people can receive a high quality business education right in the heart of the UK's capital," he said.
Abertay University already collaborates with SEGi University College in Malaysia.
The partnership covers a range of business courses and has been running for more than 10 years.