Driver on speed drug killed woman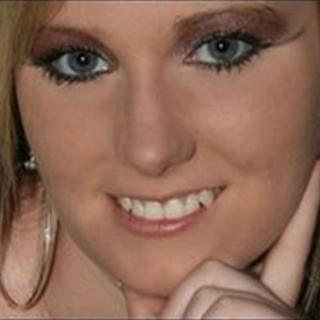 A drug-fuelled driver who killed a woman in a crash after speeding along a road with another motorist is facing a "substantial" jail sentence.
Brian Redfern's car veered across the road after overtaking and hit a vehicle being driven by Rachael Ward, who suffered fatal injuries.
The crash happened on the A908 in Clackmannanshire in January.
Redfern, 27, admitted causing death by dangerous driving and also seriously injuring his passenger in the crash.
Stacey Ross, 17, was trapped in Redfern's Vauxhall Astra after the collision and had to be freed by firefighters. She was taken to hospital where she underwent surgery.
The High Court in Edinburgh heard that after the crash, blood samples taken from Redfern, from Tillicoultry, proved positive for the Class B drug amphetamine - commonly dubbed "speed".
Witnesses told police how Redfern and his co-accused Craig Lawson, 21, had been speeding "bumper to bumper" before the collision.
Lawson, from Coalsnaughton in Clackmannanshire, was also accused of causing death by dangerous driving.
High speeds
But the Crown accepted the apprentice plumber's plea to a charge restricted to dangerous driving.
The pair, who had never met, were originally charged with culpable homicide by police.
Ms Ward, 20, was travelling home from work on a Saturday evening when the crash happened.
Advocate depute Andrew Stewart QC said a driver, Stuart Balmer, was driving east when he looked in his rear view mirror and saw Redfern and Lawson coming up behind at a speed "well in excess" of 60 mph.
Mr Stewart told the court Mr Balmer had seen Ms Ward's car coming in the opposite direction and slowed down to allow Lawson and Redfern more time to return to the right side of the road after overtaking him.
'Utterly reckless'
The advocate depute added: "Lawson pulled in in front of Balmer and drove off. Redfern pulled in in front of him and behind Lawson. As he did so Redfern suddenly veered across the road and collided with the oncoming Saxo."
Accident investigators estimate Redfern's Vauxhall Astra was speeding at about 77mph when he started to skid.
Judge Lord Tyre told Redfern: "You have pled guilty to causing the death of a 20-year-old girl and serious injuries to your own passenger by a course of dangerous driving which was utterly reckless, and moreover while you were under the influence of amphetamine."
He added that he was "minded at the moment to impose a substantial custodial sentence".
Redfern's defence counsel Dale Hughes said he was suffering from depression.
He told the judge: "He is well aware of the gravity of the proceedings and stands before you deeply remorseful for the actions which have affected the lives of so many."
Lord Tyre called for background reports on both men and deferred sentence on them.