UK soldier becomes Afghan tourist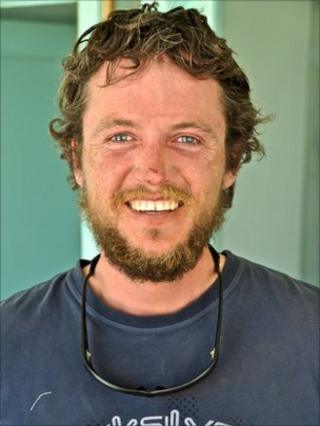 A British soldier has described how he returned to Afghanistan as a tourist just months after fighting insurgents in Helmand Province.
Mark Wynne, from north Wales, said he had repeatedly come under fire on his six-month tour with 45 Commando, Arbroath, last year.
But the Royal Marines reservist agreed to join an expedition to climb Noshaq, Afghanistan's highest peak.
The Welsh team reached the top of the 7,492m (24,580ft) Noshaq on 21 July.
The four climbers were the first British expedition to make an ascent for more than 30 years.
Mr Wynne, who lives in Trefriw, Conwy, was deployed to a base near Sangin in October 2008.
He said almost every patrol into the notorious "green zone" in front of the base had come under attack during his time there.
He told BBC Scotland: "It's only when the first rounds go down that you think - you really aren't in an exercise any more. It's not a game.
"And when you see some of your mates coming back in, arms and legs missing, it really hits home."
The 35-year-old described how he patrolled through Afghan villages, regarding everyone he saw as a potential threat.
"You just don't know who's a suicide bomber or what's going to step out the next doorway beside you," he said.
But a little over a year later he was back in Afghanistan after his friend James Bingham, from Anglesey, suggested they climb Noshaq, in the north east of the country.
Mr Wynne admitted that the first night of the trip, in a guest house in the small border town of Ishkashim, had been nerve-wracking.
He said: "I was thinking this is dicey now. I was just waiting for the shadows to come past the windows and a squad to come and get me."
And he said he had to switch off all his instincts when he found himself walking alone through a village in the Wakhan District, similar to the ones he had encountered in Helmand
"I was taking pictures of things and I looked round and I was on my own with a big entourage of about seven or eight kids," he said.
"A year ago I wouldn't have walked around here without 30 other blokes tooled up to the nines waiting for something to happen."
The other members of the Noshaq team were Quentin Brooksbank, from Anglesey, and Bill Lyden, from Alaska. The expedition was led by Mr Bingham.
The group had to dodge minefields on the way to the mountain, were forced to accept an armed escort, and faced storms and dangerous avalanche conditions on the climb itself.
Mr Wynne said: "The whole thing was very hard and we were getting very close to the bone on the way back down.
"It was getting to the point where we were pushing the limits of what we should be doing."
Mr Bingham said his friend had performed "incredibly well" on the climb.
"He's just the most amazing guy on the team bearing in mind his limited experience at altitude," he said.
Mr Wynne said he hoped to return to the region soon.
The heavy weapons specialist - who could be called up for a second tour in Afghanistan - said he had been glad to see a different side to the country on the month-long expedition, despite initial reservations.
"There were times when I was waking up at night thinking: 'What the hell am I doing? You can't do that'," he said.
"But once you research it a bit and dig below the surface of what you see on the news, it's a different world completely.
"I'll come back here again, definitely."