Restoration work at Stirling castle on Youtube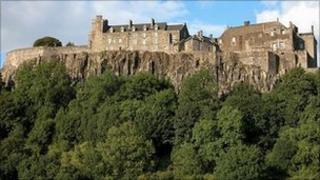 Historic Scotland has put a film showing the restoration of the Royal apartments at Stirling Castle on Youtube ahead of the palace's re-opening next easter.
Six apartments are being refurbished to their 1540's glory at a cost of £12m.
The film is the first in series planned to highlight the work of craftsmen and women.
They are returning the place block to how it would have looked in the time of James V and his Queen Mary of Guise.
Among the sights will be a new hand-carved ceiling in the king's inner hall is depicting heads of kings, queens and classical heroes.
A spokesman for Historic Scotland, Peter Yeoman said: "Returning the palace to how it may have looked in the mid-16 th century is a huge project and this film gives a behind the scenes glimpse of how it is being done."
He said the same techniques and materials were being employed as were 450 years ago.
He added that he hoped the film would: "Highlight people's awareness of the project and heighten the profile of traditional arts and crafts and underline the importance of doing what we can to keep them alive."