Moon rock lands in Dundee for summer exhibition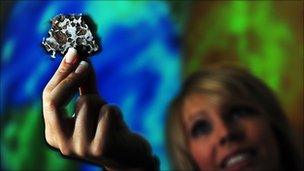 Samples of rock and lunar dust collected during Nasa's manned space missions to the Moon in the 1960s and 1970s have been loaned to Dundee Science Centre.
The collection includes some meteorites older than the Earth, with one thought to have been created more than 4,565 million years ago.
The public will be able to touch some of the specimens.
The display runs until October and is one of two in the UK outside London.
Louise Smith, chief executive of Dundee Science Centre, said: "We are over the moon to have these samples as part of our summer space exhibition.
"Being able to get so close, and even touch materials that come from a world beyond our own offers a truly unique experience and really engages visitors like never before."
Science and Technology Facilities Council chief executive Professor Keith Mason said: "It's incredible to think that, when you hold a meteorite, you are handling something that may have travelled millions of miles through space.
"Meteorites can tell us a great deal about the places they originated from."
Related Internet Links
The BBC is not responsible for the content of external sites.