Halo Trust keen to get back to work in Afghanistan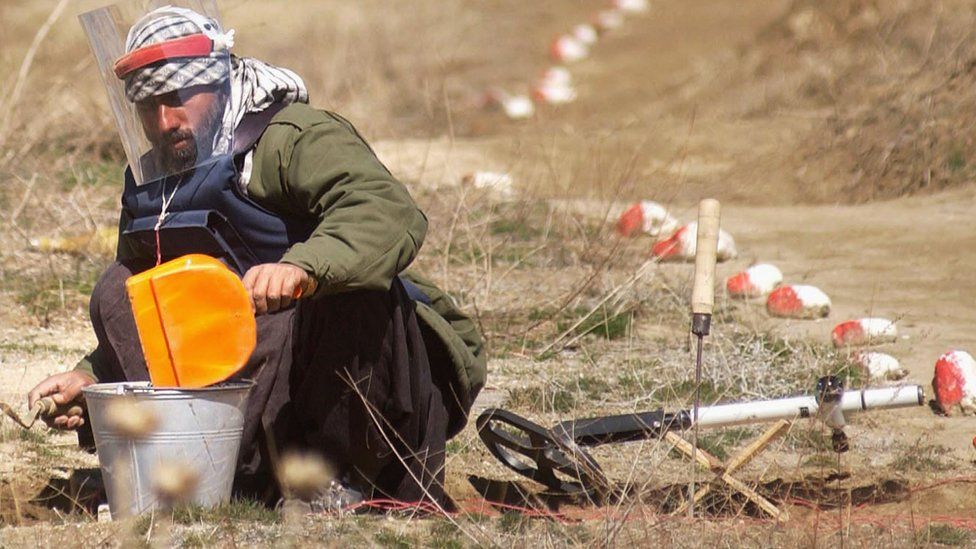 A Scottish charity has said it hopes to resume its landmine clearing in Afghanistan under Taliban rule.
Simon Conway, the Halo Trust's director of capabilities, said there was an "absolutely huge requirement" for its work in the country.
It suspended its operations last weekend but hopes to resume clearing explosives on Saturday.
Mr Conway said the period immediately after any conflict had the "real potential" for a spike in casualties.
The Halo Trust - which has its headquarters near Thornhill in Dumfries and Galloway - has been working in Afghanistan for decades.
The last two of its "very small component" of international staff were evacuated on Sunday as the Taliban took control.
However, it still has 2,500 workers in the country who Mr Conway said were "relatively safe and secure" as was the equipment they needed including vehicles, mine detectors and body armour.
"We suspended our operations at the weekend but we are hoping to start work again tomorrow," he said.
He said the charity had already received a request from the Taliban to start clearing ordnance from the recent conflict from around one city.
"We are hoping to get back to work - tentatively at first, carefully - but there is an absolutely huge requirement for clearance," he said.
He said the risks were particularly high if millions of displaced people began to move back to their homes.
"That is always a very, very dangerous period - immediately post conflict," he said.
"People are going back to their homes, they are not familiar with what they are walking into and there is a real potential for a big spike in casualties.
"We are absolutely keen to get back to work as soon as possible."
He said it was a time when the Halo Trust would need "renewed support" to get rid of all the unexploded bombs that "litter the place".
"All of the IEDs (Improvised Explosive Devices) that killed so many British and American soldiers are killing Afghans - ordinary women and children - they need to be cleared," he said.
He said there had been "positive noises" in the past 24 hours from governments about providing humanitarian aid to help fund that effort.
Mr Conway said any support they received would help to safeguard the "lives and livelihoods of ordinary Afghan people".
Related Internet Links
The BBC is not responsible for the content of external sites.